GENERAL RESOURCES - Book Reviews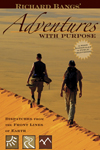 Adventures with a Purpose
by Richard Bangs
http://www.menasharidge.com/
Richard Bangs, an eminent and respected conservationist, Web pioneer, ambassador, and explorer in this book travels to exotic and difficult environments, but with a new purpose. He goes from Bosnia to Libya, Panama to the American West, Rwanda to Thailand, all in a search to make sense of disappearing cultures and rivers, to save them by bringing them to life.
In typical Bangs narrative, the book plows to the heart of the matter, painting peoples and places as he weaves among them, creating landscapes that tell their own story.
After reading this book, we wish we had time and resources to visit all these places to see what Richard experienced. We hope our readers feel the commitment to not only visit these places but to also find other places in the world that could use our knowledge and help.
...Fiftysense Product Review Panel