OUTDOOR ACTIVITIES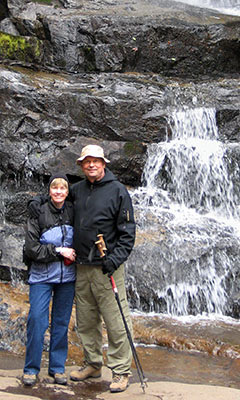 There are 78 million baby boomers out there, and while many are content to retire and slow down, there are many of us who would like to choose an active and challenging lifestyle. This site is dedicated to those boomers and older who do not wish to lead a passive lifestyle.
Have you always wanted to backpack but never had the time? Did you ski when you were younger, but haven't done it in a while and are unfamiliar with all the new equipment and techniques that make the sport easier? Why is snowboarding good for the over-fifty population? Would you like to walk or cycle further than around the block but want to take care not hurt your body? Would you like to add hiking or canoeing/kayaking to those camping trips? Is it possible to become a better golfer now that you have more time, but are no longer young?
Whether it is exploring a new sport, learning about new techniques and equipment, or simply finding the stories of others, this site provides you with the information you might need for leading an active and healthy over-50 lifestyle. Enjoy!
We hope you not only learn something new, but will also share your experiences with us. Send in your experiences and share them others! Send us an email with your experiences, reviews, comments or suggestions, or if you cannot find what you are looking for at: fiftysense@fiftysense.net. If you add to our knowledge by sending us pictures, your story, information, and/or product reviews, you may even be selected for our weekly feature!
Jordan River in Winter

If river rafting brings to mind shooting through whitewater rapids in a canyon with a name like; Devils Elbow, with dry suits and hard paddling just to stay in the boat ....
Email us your favorite outdoor activity stories!